Pfadfindergruppe Krems an der Donau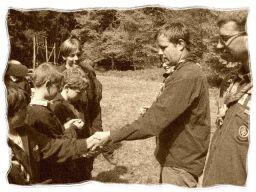 Die Geschichte der Pfadfindergruppe Krems beginnt im Jahre 1930. In diesem Jahr bildeten ein paar Buben unter dem ersten Feldmeister Augus Liewehr, in Krems die erste Patrulle. Als Heim hatte die Pfarre Krems ein Zimmer im ersten Stock, eines kleinen Gebäudes im Südosten der Ursula-Kapelle, zur Verfügung gestellt. Im Jahre 1934 bestand die Gruppe schon aus 3 Patrullen, alles Buben von 10 – 15 Jahren. Im Heim hatte jede Patrulle seinen eigenen Bereich mit Tischen und Hockern, der wie der ganze Raum aus eigenen Kräften pfadfinderisch ausgestattet und gestaltet wurde. 1938 wurde die Gruppe im Zuge des Anschlusses an das Deutsche Reich aufgelöst. Doch 1946 wurde aufs Neue mit einer kleinen Bubenschar begonnen. Somit wurde der Grundstein für die Pfadfindergruppe Krems gelegt.
Heute umfasst die Gruppe 90 Pfadfinder und Pfadfinderinnen in allen vier Sparten. Als Heim dienen 2 Stockwerke des Pulverturms in Krems und ein großes Gelände am Schußgraben, welches nicht nur für Heimstunden verwendet wird. Jedes Jahr im Juni findet auf diesem Gelände das Sommernachtsfest, zu dem die benachbarten Pfadfindergruppen und auch die Einwohner von Krems zahlreich erscheinen, statt. Die Pfadfindergruppe Krems gibt es nun schon seit über 70 Jahren und es mögen noch viele weitere folgen.
The Scouting group Krems
We have to look back to 1930 when some boys founded the first patrule of the Scouting group in Krems. The home of this group was one room in a small building which belonged to the parish of Krems. In the year 1934 the group consisted of 3 patrules, all young boys in the age between 10 and 15 years. In the rooms, which was the home of the group, each patrul had his own range with tables chairs and the hole room was decorated with scouting things. 1938 the taking over of the Nazis brought an end for the scouting activities in Krems. But in 1946 some boys began again with their activities in the name of the Scouting group Krems and the foundations for the group were here.
Today the Scouting group Krems has 90 boy scouts and girl guides in all four spades. The home of the group are two rooms in the so called powder tower and a big ground in the city of Krems where we make different scouting activities. And every year in June there is held a summer party of the group for all people and the surrounding Scouting groups came for a visit. The Scouting group Krems is older than 70 years and we hope that every year more and more young boys and girls become part of this group so that the group will exist from now on a very long time.
Christine Kreibich, Pfadfindergruppe Krems